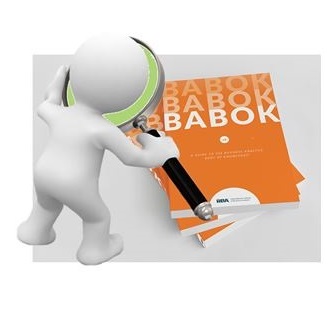 Date / Heure
Date(s) - 03/04/2019
18:30 - 19:30
Description
Préparation à la certification en Business Analyse (IIBA)
Plus de 95% de réussite à l'examen. La formation SCABA avec le BABOK 3 est maintenant disponible.
Depuis quelques années on assiste à l'émergence d'un nouveau métier au sein des entreprises : celui de Business Analyste.
Quand ?
De début avril à mi-juin 2019, 10 (niveau 1), 12 (niveau 2) ou 14 (niveau 3) modules de 3.5 heures seront enseignés en cours du soir. La date de chaque module sera convenue entre le formateur et les participants au début du cours, avec un objectif de 1 module par semaine.
Le début de la formation est la semaine du 8 avril. Les details exactes restent à préciser. Séances d'information le lundi 1 et mercredi 3 avril 2019 au Centre Universitaire d'Informatique – CUI (Université de Genève – Campus Battelle à Carouge) de 18h30 à 19h30 Salle 432 Bâtiment A.
=========================================================================
Preparation for certification in Business Analysis (IIBA)
More than 95% of our trainees pass the exam. The SCABA training with BABOK 3 is now available!
In recent years we have witnessed the emergence of a new profession within companies: the Business Analyst.
The Swiss Consulting Association offers training to prepare you for one of the 3 certifications of the IIBA (International Institute of Business Analysis) with the assurance of a successful certification!
When?
From early April till mid-June 2019, 10 (level 1), 12 (level 2) or 14 (level 3) modules of 3.5 hrs each will be taught in evening classes. The date for each module will be agreed between the trainer and the participants at the start of the course, with an aim at 1 module per week.
The start of the training is the week of 8th April, with exact details to be announced. Information meetings will be held on Monday 1st and Wednesday 3rd of April 2019 at the Centre Universitaire d'Informatique – CUI (University of Geneva – Campus Battelle in Carouge) from 18h30 to 19h30 in Room 432 Building A.
Emplacement
CUI (Université de Genève – Campus Battelle) Carte non disponible .
Catégories
Réservations
*Invités ou partenaires ? Précisez dans le champ "Commentaire" par qui vous êtes invité ou votre code partenaire !
Les réservations sont closes pour cet événement.
---